The Dr. Amarjit S. Marwah has received the Bhagat Singh Thind Community Empowerment Award this year. Marwah is widely known for his service and leadership to the Sikh community. Whether it was establishing the first Gurdwara in Southern California, working with public service organizations like the Rotary Club, or supporting disadvantaged individuals in South Asia, he has demonstrated the Sikh spirit of seva (selfless service).
Additionally, Dr. Marwah has a remarkable life story that allows him great perspective of Sikh American history as he served as a campaign manager of Dr. Dalip Singh Saund's successful US Congress election campaign in 1957, and his decades of engagement with civic and political leaders in America have positively shaped the landscape for Sikh Americans across the country. In addition to his many professional accolades, Dr. Marwah has served on the board of the Los Angeles World Affairs Council, chaired the Hollywood Arts Commission and the Los Angeles/Mumbai (Bombay) Sister Cities, and was president of the Los Angeles Cultural Heritage Commission.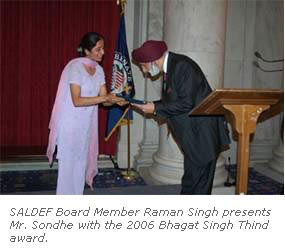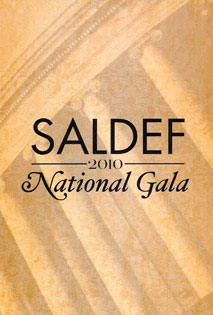 Founded as the Sikh Mediawatch and Resource Task Force (SMART) in 1996, SALDEF is a national non-profit civil rights and educational organization. They empower Sikh Americans through legal assistance, educational outreach, legislative advocacy, and media relations. Each year the Bhagat Singh Thind Community Empowerment Award recognizes a deserving American Sikh that has contributed to the Sikh spirit and tradition of selfless service.
The Bhagat Singh Community Empowerment Award recognizes contributions by a Sikh in keeping with the Sikh spirit and tradition of seva (selfless service).
The award is named in honor of Dr. Bhagat Singh Thind (1892 – 1967), a pioneering Sikh.
Dr. Thind was born in Punjab and came to America in 1913. A year later, he was paying his way through the University of California at Berkeley by working in an Oregon lumber mill during summer vacations. When America entered World War I, he joined the US Army. He was honorably discharged in 1918 and in 1920 applied for US citizenship from the state of Oregon. Since several applicants from India had thus far been granted US citizenship, Dr. Thind was also approved by the district court. A naturalization examiner, however, appealed this court's decision and his case eventually made it up to the US Supreme Court.
In 1923, America's highest court denied his petition in a landmark ruling declaring him a "nonwhite Caucasian", ineligible for citizenship (United States vs. Bhagat Singh Thind, 261 US 204). Ironically, Dr. Thind applied for and received US citizenship through the state of New York within a few years of being turned down by the US Supreme Court.
Dr. Thind remained in the US, completed his PhD, and authored 15 books on various subjects. He delivered lectures on metaphysics across the nation basing his lessons on Sikh philosophy. Dr. Thind enriched his teaching with references to the scripture of several religions and the work of Emerson, Whitman, and Thoreau. He also campaigned actively for the independence of India from the British Empire.
Bhagat Singh Thind Community Empowerment Award Sardar Ujagar Singh Director, Camp Chardi Kala
SALDEF Celebrates Achievements of Sikh Americans and Civil Rights Leaders at 2007 Civil Rights Awards Banquet