Dr. Bhagat Singh Thind was born on October 3, 1892 in a well-known military Kamboj Sikh Thind family of village Taragarh/Talawan in the District Amritsar. His father, S. Boota Singh Thind, was retired as Subedar Major from the British Indian Army. His mother, Icer Kaur, died when Dr. Thind was only a young child, but left an indelible memory with him.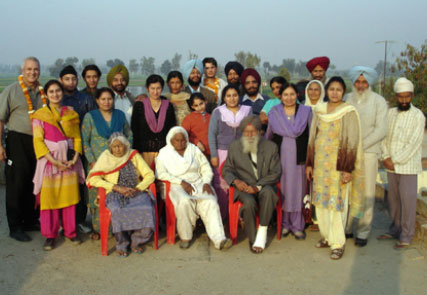 Present day Thind family of India standing at Village Taragarh/Talawan in District Amritsar, where Dr. Thind was born.
Dr. Thind's ancestors had earlier served in the Sikh army of Maharaja Ranjit and even before that, in the Marjeewra Sikh fauj of 10th Lord. This earned a good name as a Warriors' family.
S. Boota Singh Thind, his family, and all his relatives were very dedicated Sikhs and had actively participated in Sikh Morcha for possessions of lands belonging to Gurudwara Pheru, at Lahore in 1924 and earlier in Nankana Sahib Morcha of 1921 (In which out of 86 Singh Shaheeds, 32 were the Kamboj Singhs). S. Boota Singh Thind was jailed for several years and lost his military pension as a consequence. He had also persuaded numerous other Kamboj Singhs of Shekhupuru to actively participate in the movement. Thus it is clear that Dr. Bhagat Singh Thind had inherited the love for Sikhism and humanity from his devoted Sikh parents and relatives as mentioned above.
After his high school graduation in 1908, Dr. Thind enrolled at Khalsa College in Amritsar and obtained his college degree. While a student, Dr. Thind had already ardently studied American history and its literature (Emerson, Whitman, and Thoreau) and developed a keen interest in America and its people. He was soon inspired to travel to America for a higher education and to fulfill his destiny as a Spiritual Teacher. Dr. Thind left Calcutta, India bound for America at the age of 19. He landed in Manila and stayed for 9 months before departing for the United States on the Vessel Minnesota and finally landed in Seattle, Washington July 4, 1913.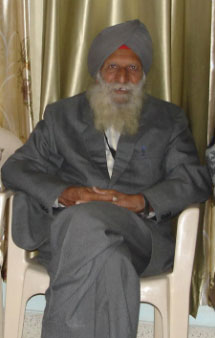 Charan Singh Thind
Current Family Patriarch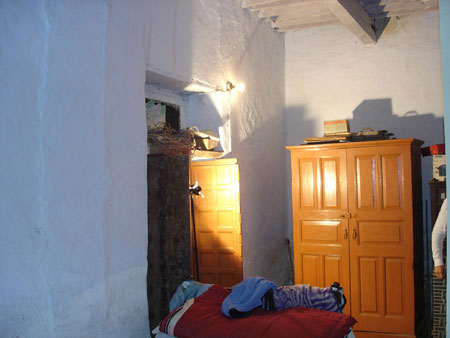 The room Dr. Thind was born
and lived as a child.
Boota Singh Thind
Dr. Thind's father who was a very spiritual man was a wonderful example for his son, being bold, brave, idealistic and pragmatic said to his son on the day he left for America at the railway station at Amritsar:
"Promise me four things:
First, neither beg nor borrow, no matter what happens.
Second, never commit adultery.
Third, neither smoke, nor have anything to do with any kind of intoxicating drinks or drugs or narcotics or drugs.
Fourth, never live in the past, live always in the eternal One and start life ever anew.
His father looked him in the eyes and said, "I hope if you follow these teachings I have given you, you will make a success in life. If you cannot, the sooner you perish the better for you and for me and the rest of the world, because I do not want a weakling to survive me. My children should not be weaklings or jelly-fishes".
Dr. Thind as a young man of 19 years and five months looked back at his father and said: "Father, your heroic blood runs in my veins. I will be faithful and true and I cannot fail."
Then Boota gave Dr. Thind two thousand rupees. He said: "Son, this is all I can give you now. I have given you an education and an example. Make your own way in life."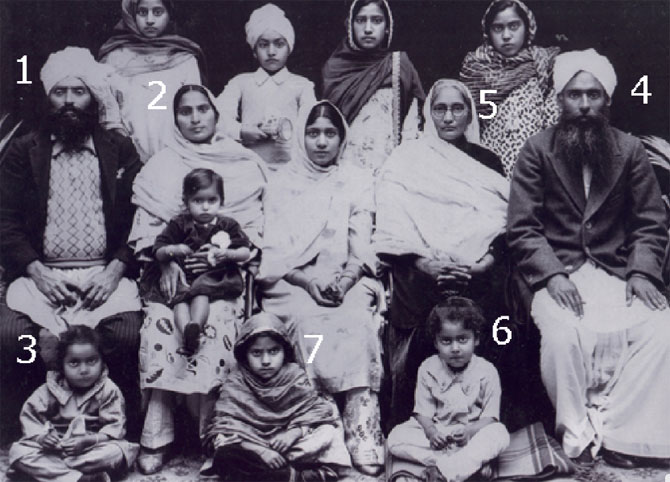 Hira Singh Thind (Bhagat Singh Thind's Brother)
Basant Thind (Hira's wife)
Balwant Singh Thind (Hira's son)
Jagat Singh Thind (Bhagat Singh Thind's Brother)
Inder Kaur (Jagat's wife)
Harbhajan Singh Thind (Jagat's son)
Pritam Thind (Jagat's daughter)