Dedicated with deepest divine thankfulness to my wife-my Heart queen, Vivian, dearest darling of my loving heart. Always.
"Loving and true and tender, My strength and my defender."
By Dr. Bhagat Singh Thind Dedication on the first publishing "Science of Union with God"
Vivian Thind (Mataji) was the loving and inspiring spiritual disciple and wife of Dr. Bhagat Singh Thind. She departed her body at 12:20pm on January 9, 2003 to join her Sat Guru. A devotee of my father, she applied his teachings to her everyday life.
Mataji was a loving example for all who had the privilege of meeting and knowing her. A gracious and loving Mother, Grandmother, Auntie and friend, she was love – personified.
When our Mataji laid down her life after 64 years of selfless service and devotion to my father, his disciples, and friends, she left no karmic debt. She lived as a free spirit, sharing without limitation the fruits of her realization.
Though she will be missed in body, her Spirit will be with us forever.
Thank you Mataji for your guidance, love, friendship and grace.
With Eternal Love.
Your Son,
David Thind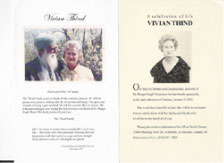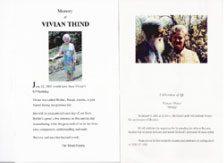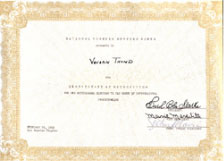 Special note sent Februrary 2012 from Karen Kaye to David Thind regarding his mother Vivian Thind.