It was a wish of my dear mother and myself that the world could be shown on film the life and spiritual teachings of Sat Guru Dr. Bhagat Singh Thind (October 3, 1892- September 15, 1967). His emergence as one of the greatest spiritual teachers of the 20th century has left an indelible legacy for seekers of truth to follow.
Now almost 40 years after his liberation, his books, booklets, and lecture series are being sold and distributed around the world, and now the film documenting his life has become a reality.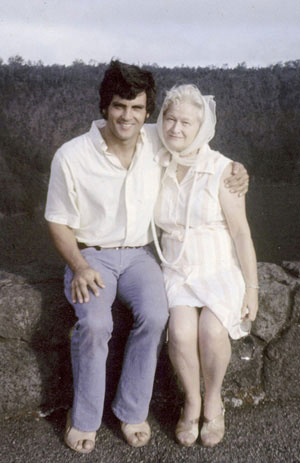 Filming began in December 2004 and 2005 at Dr. Thind's birthplace and family home located in the village of Taragarh near Jandiala Guru, district of Amritsar, Punjab, India. The present day Thind family headed by Charan Singh Thind occupies and lives in the same house where Dr. Thind was born and raised by his mother and father, Icer Kaur and Boota Singh Thind. The love and reverence shown by his relatives in India shined a bright light on his recognition as a true savior and sat guru.
We filmed his beloved Khalsa College while in Amritsar interviewing the president and resident professors where Dr. Thind was being honored and immortalized with the Dr. Bhagat Singh Thind Scholarship Fund. Its mission is to assist students in need of financial support. Lastly, we filmed the Holy Golden Temple (pictured right), where Dr. Thind's father is being honored as a freedom fighter for India's independence.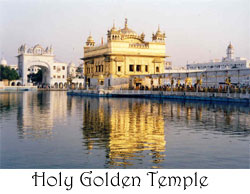 In 2006, we filmed the Punjabi American Festival in Yuba City, California, where Dr. Thind was honored for his efforts in fighting for citizenship rights on behalf of all South Asian immigrants. Filming commenced in Washington DC where Dr. Thind is honored each year by SALDEF (Sikh American Legal Defense and Education Fund), for the Bhagat Singh Thind Community Empowerment Award, which recognizes contributions by a Sikh in keeping with the Sikh spirit and tradition of Seva (selfless service).
The film will detail Dr. Thind's arrival in the United States in Seattle, Washington, in 1913 and his first means of employment as a laborer in the lumber mills of Astoria, Oregon (known as Hindoo Alley). This humble job gave Doctor the means to obtain enough money to study and obtain his degrees at the University of California, Berkeley.
Dr. Thind wanted to become a lawyer here in the United States but needed to become a citizen to obtain this degree, which marks his famous saga of obtaining his citizenship which was granted and taken away twice, leading to one of the most studied cases of the United States Supreme Court of 1923. Dr. Thind challenged the court to become a citizen based on being a free white man. He entered the army in 1918, being one of the first Sikhs to serve in the United States Army, which would eventually be his successful attempt at becoming a citizen in 1936 in the state of New York.
The remainder of the film will be based on his actual spiritual teachings depicting the transmission of truths that he gave to over five million Americans during his 56 years of teaching based on Spiritual Science or Sant Mat, the teachings of Guru Nanak, the founder of Sikhism.